Last Updated September 27th, 2019
Website Audit Tools: 18 Powerful SEO Audit Tools (2019)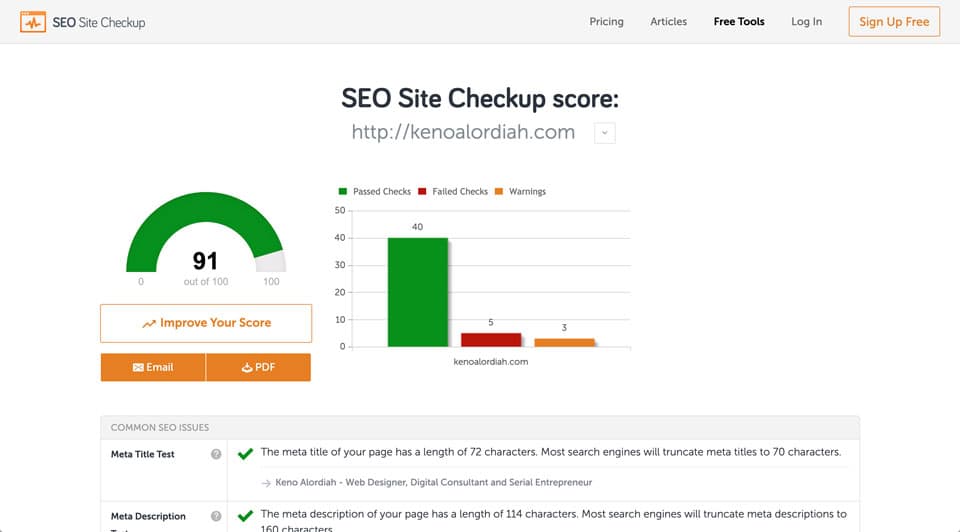 Website audit tools help you analyze a website and identify website speed and SEO related issues.
If you are losing traffic to your website or your website is not ranking in Google Search results then it is time for a comprehensive website and SEO audit.
The website and SEO audit tools mentioned in this article will help you run a quick audit on your website and identify areas that need improvements.
Whether your website is 10 years old or a new website, running a website speed and SEO audit is important to improve SEO.
By implementing the recommendations listed by these free website audit tools, you can greatly improve the user experience and search engine ranking on your website.
What is a website audit?
A website audit is a series of checks carried out on your website to identify website speed and SEO related issues.
Fixing these issues can improve SEO and increase your rankings in search engine results.
There are lots of free website audit tools available to make this process painless. Some of the tools are free to use while others require financial commitments.
In this article, I will be sharing with you some of the website and SEO audit tools that I use in my web design project to ensure I follow best practices.
Why do you audit a website?
There are several reasons why you might want to audit your website but I will focus on only two in this article.
To increase website speed: if your website is slow especially on mobile devices you can run a performance audit to determine what the problem might be and fix it.
To improve SEO: if you're not getting enough organic traffic to your website, you can perform an SEO audit to determine where the issue might be and fix it.
A slow website can seriously hurt SEO.
Ever since Google announced its mobile-first crawler, it is now important more than ever to audit your website and fix issues that might hurt your SEO and here is how.
How do you audit a website?
There are lots of free website and SEO audit tools you can use to perform a website audit on your website.
In this article, I'll be sharing with you a couple of them that I've used and has really worked well for me.
This article is broken down into 2 sections for easy navigation;

Website Speed audit tools
Website speed audit tools are designed to help you identify areas of your website that needs improvement.
Here are 10 free website speed audit tools you can use to audit your website and identify performance-related issues.
Google has a free tool you can use to run a speed audit on your website and identify areas that need improvement.
As a performance-based audit from the number one search engine in the world, you are sure to get the best performance results all for free.
Google's page speed test scores the speed of your website on both mobile and desktop and scores it from 0 to 100.
Typically, you should aim for a score above 70%.
If you choose to audit to your website yourself using Google page speed test, be sure to test your homepage and all internal pages of your website.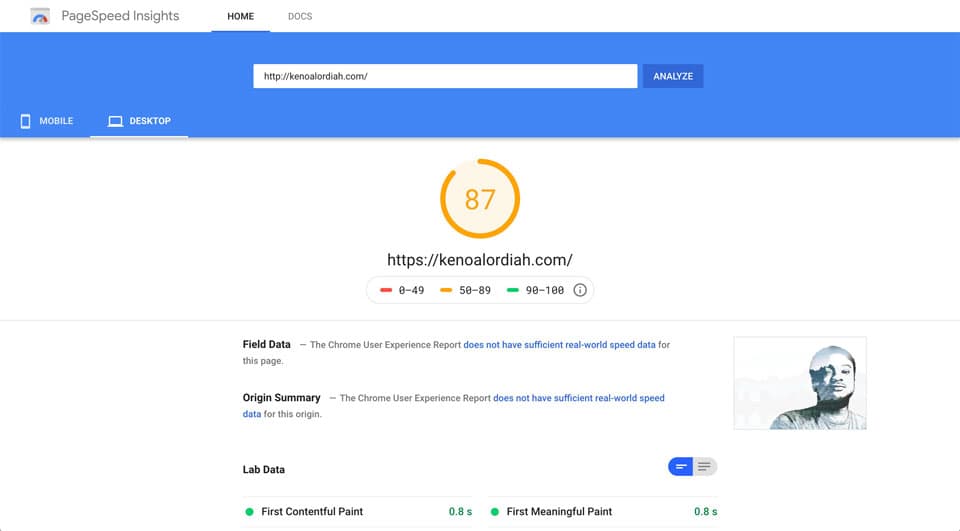 Another very good website speed audit tool is GTMetrix. 
Gtmetrix runs a speed test on your website and scores it from A to F.
A being the highest score and F being the lowest score.
If you like to audit to your website using GTMetrix simply click on this link and input your website URL in the form provided.
GTMetrix is absolutely free and their speed recommendations are very helpful in helping you optimise your website for faster loading.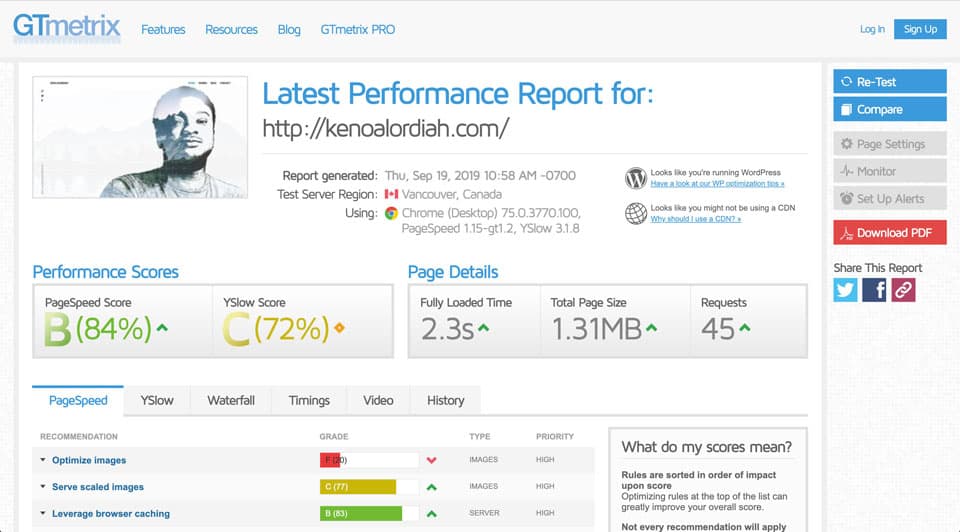 WebPageTest.org is another website speed audit tool.
The audit report might seem overwhelming at first but trust me it's a quick and easy way to identify speed-related issues on your website.
To use webpagetest.org simply visit the URL and input your website link.
Take a look at the image below to see a performance test conducted on my website.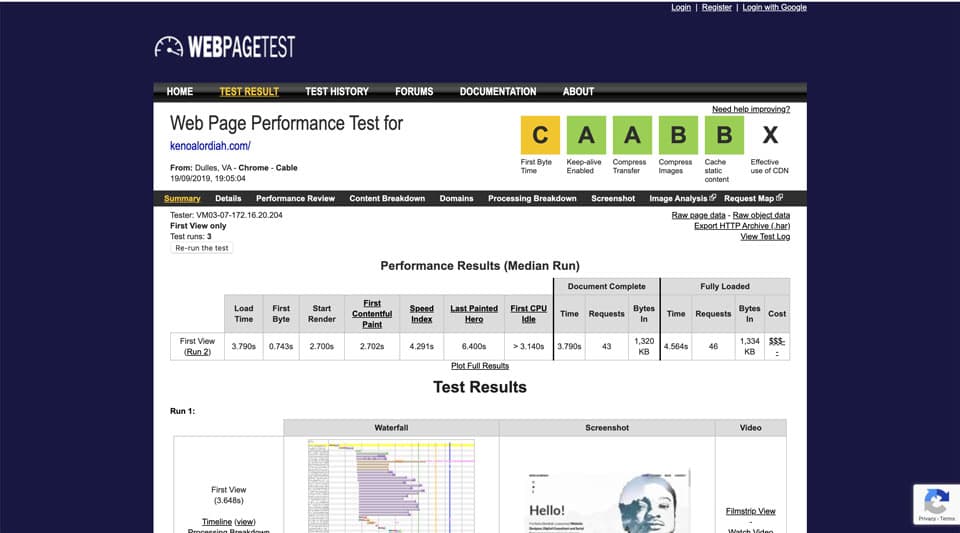 A free online all-round tool for easy website audits. Varvy is easy to use and its test results are put together nicely for easy interpretation. 
This tool doesn't give you an overall website speed score like the other on this list.
Instead, it groups result in categories and identify files that might be slowing your website down or best practices that need to be implemented using the X sign.
To use Varvy for website speed audit, simply click on the link, input your URL and wait for your results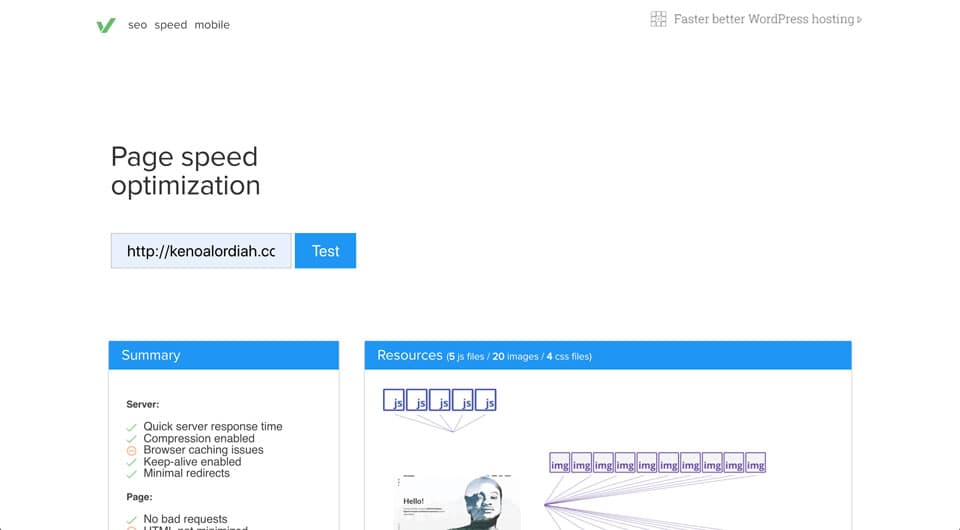 Yellowlab.tools website audit tool allows you to quickly identify speed-related issues on your website.
This tool scores your website from A to F.
This is very helpful for identifying areas that need improvement on your website.
You can also click on the audit score to get individual results and recommendations on specific areas affecting your website.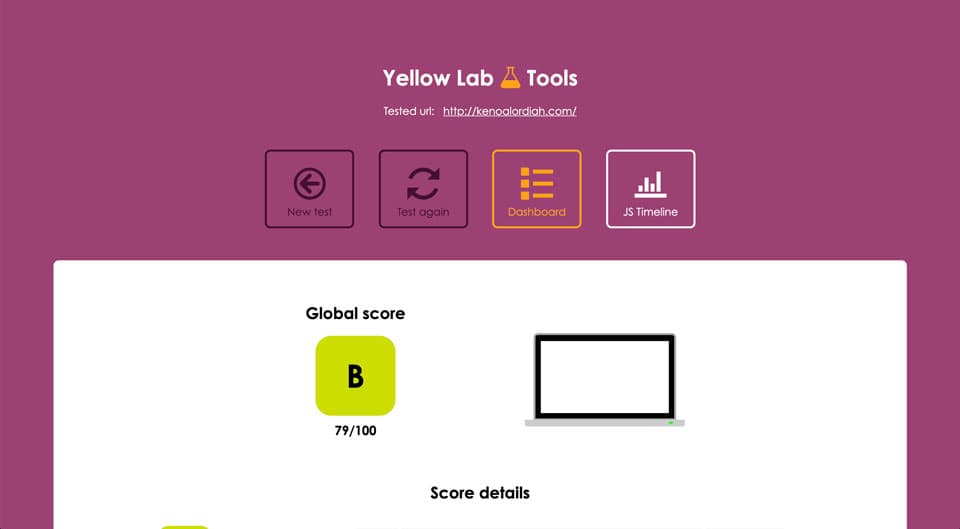 Here comes a very interesting tool.
dot-com tools allow you to test your website performance across 25 servers in 25 different locations.
This is especially good if you have a global audience and want to see how your website holds up across multiple locations. 
Although the test can take a while and that's simply because it is run across 25 different servers but it is worth the wait.
The results give you an overview of how people from different regions will experience your website which is quite good if you ask me.
Amongst all the tools listed in this article dot-com tools is one of the few performance audit tools that have this feature and I highly recommend you give it a try.
To audit your website, simply visit the website and enter your URL.
I'd advise you take a seat and sip on a hot cup of coffee while you wait cuz it might take a while.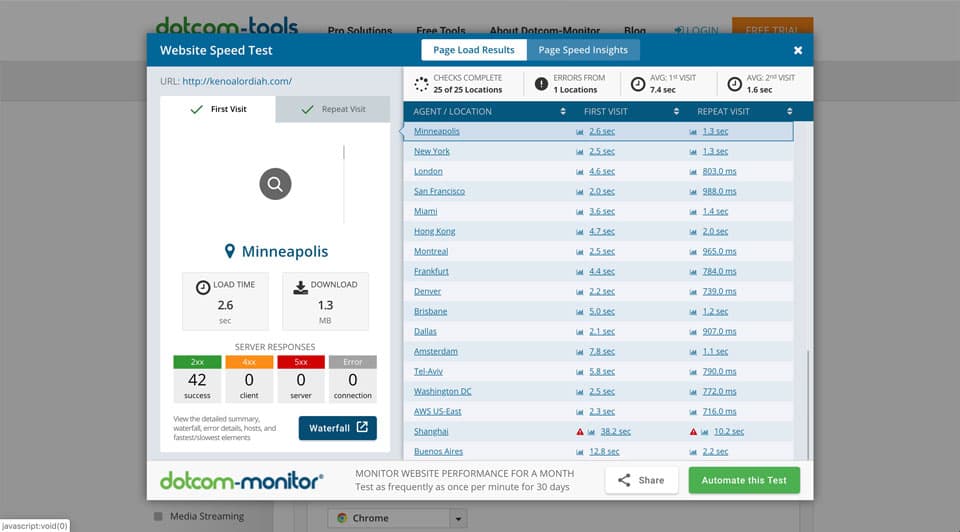 Website Grader is a free website audit tool developed by HubSpot.
And just like every other tool on this list website grader helps you run performance check on your website and give recommendations on how to improve live performance.
 it's a very simple tool to use but you'll be required to provide an email address so if you don't like giving out your email address you can try out any other tool on the list.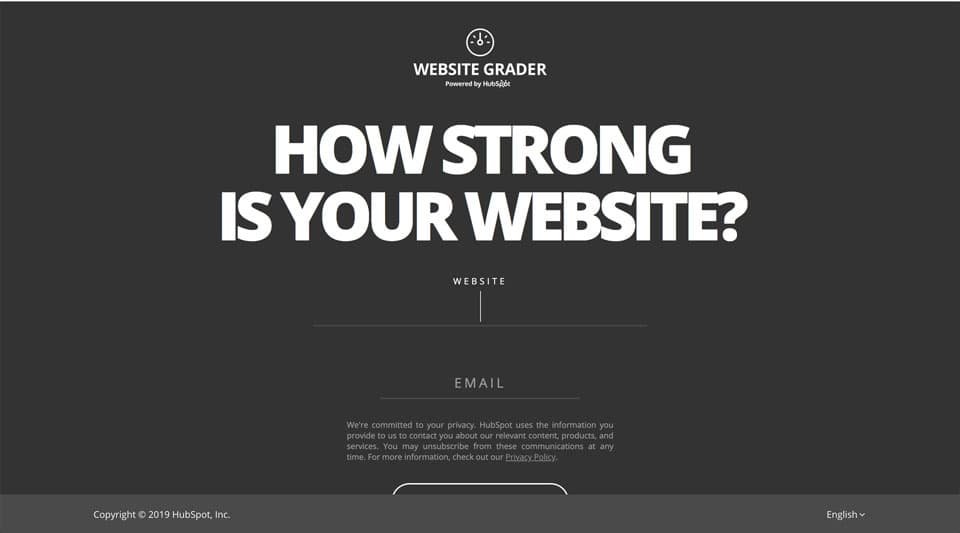 Frankly speaking, the first time I came across this website, I was blown away.
Images are one of the leading factors that affect website speed and that is what website speed test tries to solve with their tool.
This tool helps you analyse the images on your website and identify images that need optimization in other to improve performance.
It scores your website by analysing every image and showing you potential savings after compression.
Each image is analysed and scored from A to F making it easy to identify images that are slowing down the website.
This tool is especially useful for identifying large images that affect the speed of your website.
To be honest this is a tool that I can never live without.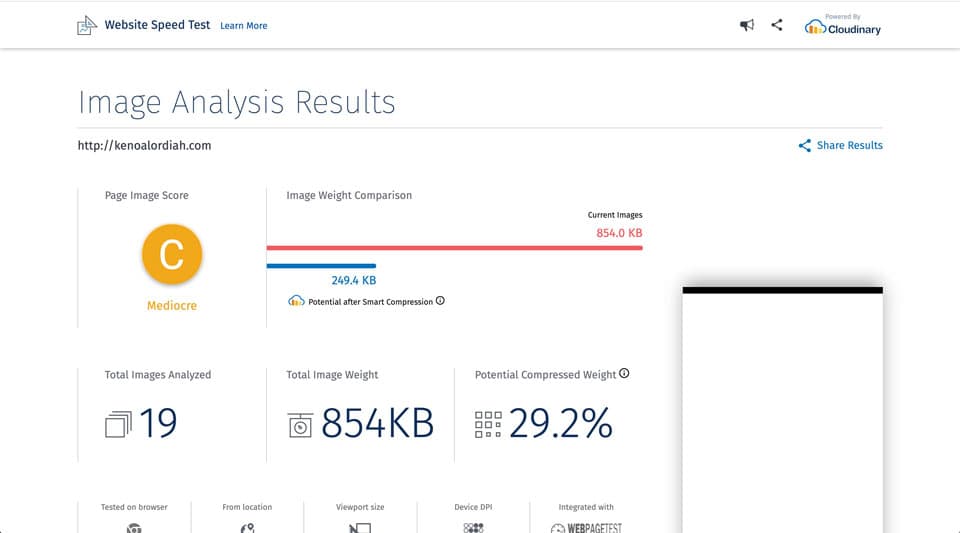 If you want to run a speed test on your website from a region with a specific browser and a specific device uptrends website speed test tool is definitely for you.
You have the following options to choose from;
Browser type
Device type (Desktop or Mobile)
Location
Screen Size
Bandwidth Throttling
This can help you narrow down specific issues affecting your website performance across multiple devices and browsers.
The result shows you a very nice waterfall graph.
This will help you understand the resources and assets slowing down your website.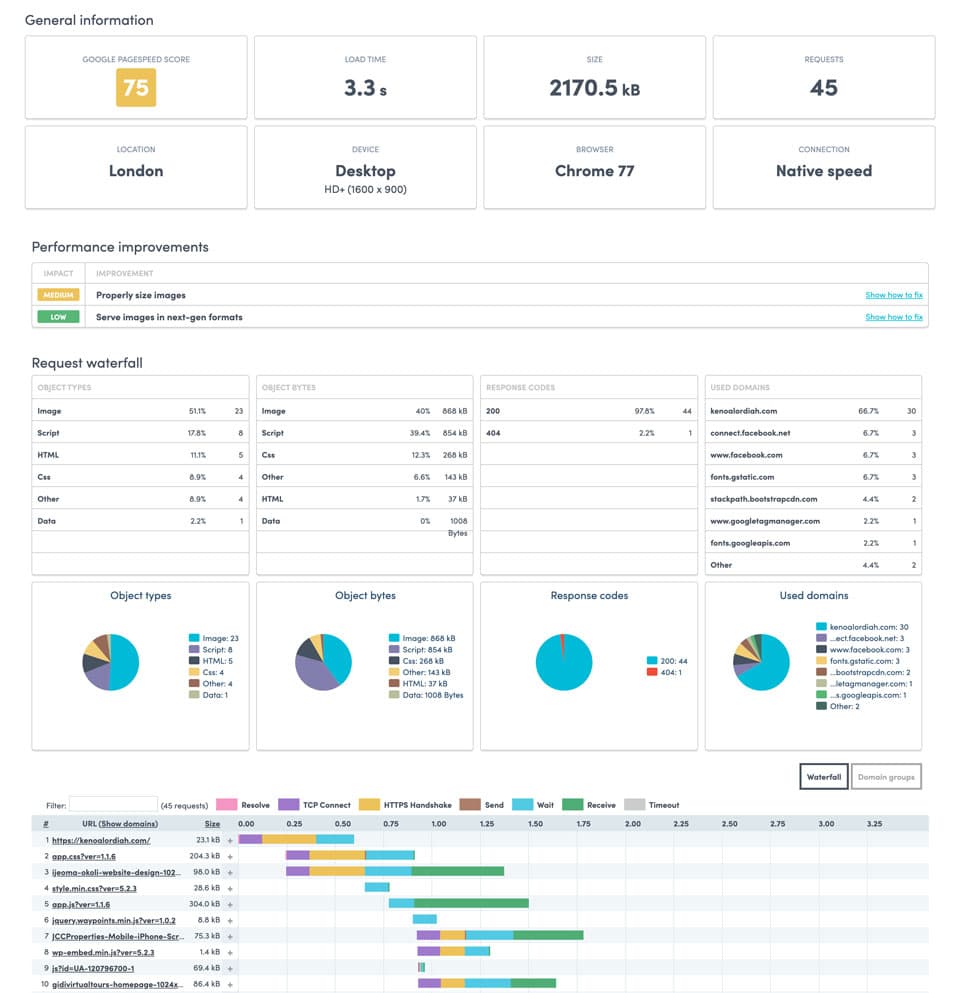 Nibbler is another awesome websites audit tool. you can get an overall score for your website simply by running a quick test.
It also scores your website on
Overall performance
Accessibility
Technology
User experience
This is a quick test that helps you understand how your website is going to perform.
Although, nibbler is not as detailed as the other performance website audit tools in this list but it's still worth trying out.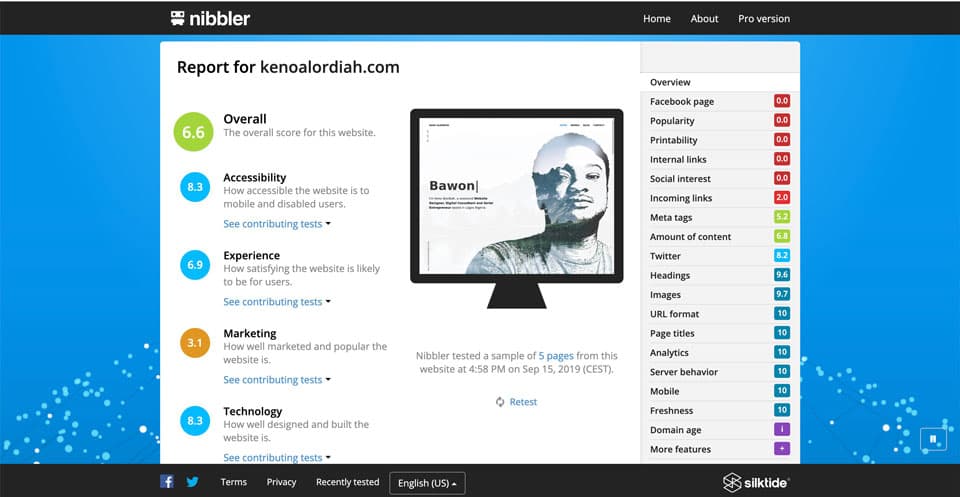 What to do with your website audit report.
Now that you understand why it is important to audit your website the next question is what do you do with your website audit report?
If your website runs on WordPress, this will be a good time to go on Google and search for how to optimise a WordPress website.
There are lots of free plugins that can help you optimise a WordPress website and improve the overall speed.
If your website is not developed on WordPress you can simply hire a web designer to implement the changes required to help boost the performance of your website.
SEO audit tools 
A handful of the SEO audit tools listed in this article are paid tools. 
While this may not sound encouraging most of them provide a free test that can give you a quick overview of how SEO friendly your website is.
I encourage you to use these tools to audit your website and identify areas you can optimise to improve the overall SEO ranking for your website.
I'm sure you might be wondering why Google mobile-friendly test is the first of this list and here is why.
 Google now ranks a website based on how mobile-friendly it is.
This is known as a mobile-first index.
It's no surprise that I have to put this first because it is an important ranking factor in Google search engine.
This simply means that if your website is not optimised for mobile you will find it difficult to rank on Google.
As I mentioned above it is best to audit as many pages on your website as possible to have a fair idea on how mobile-friendly your website is.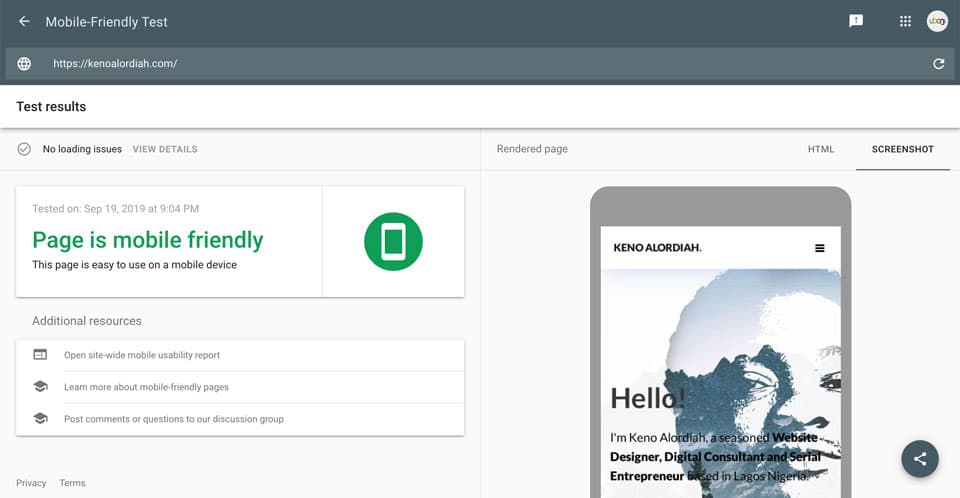 If you're looking for a tool that will give you an overview of how your website performs in terms of speed and SEO then seositecheckup.com is the ultimate SEO audit tool for you.
Using this tool is not free but the free site checkup result is more than enough to give you an overview of how your website performs.
you have access to report such as;
Website speed test
Advanced SEO analysis
Server security analysis
Mobile optimisation
The only drawback I observed using this tool is that you cannot analyse the inner pages of your website without setting up a paid account.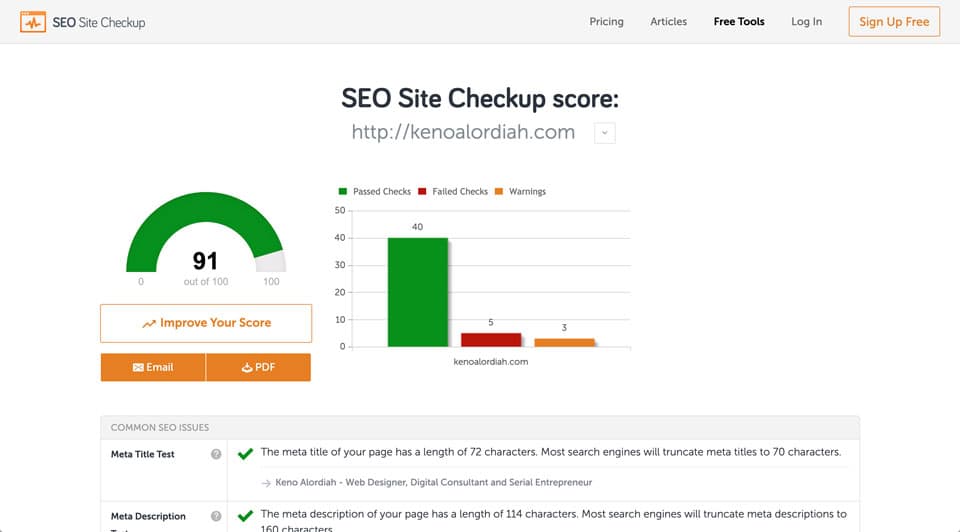 Woorank is another in-depth website SEO audit tool.
It shines in so many other areas asides just running SEO analysis for your website as a matter of fact most SEO analyst considers woorank one of the best SEO audit tools out there.
You can run a free SEO check on your website but just as before, we can only run it on the homepage of your website.
The free reports will give you access to information such as
SEO Analysis
Structured data
Mobile Analysis
Usability Report
This information can then be used to optimise your website and make it more SEO friendly.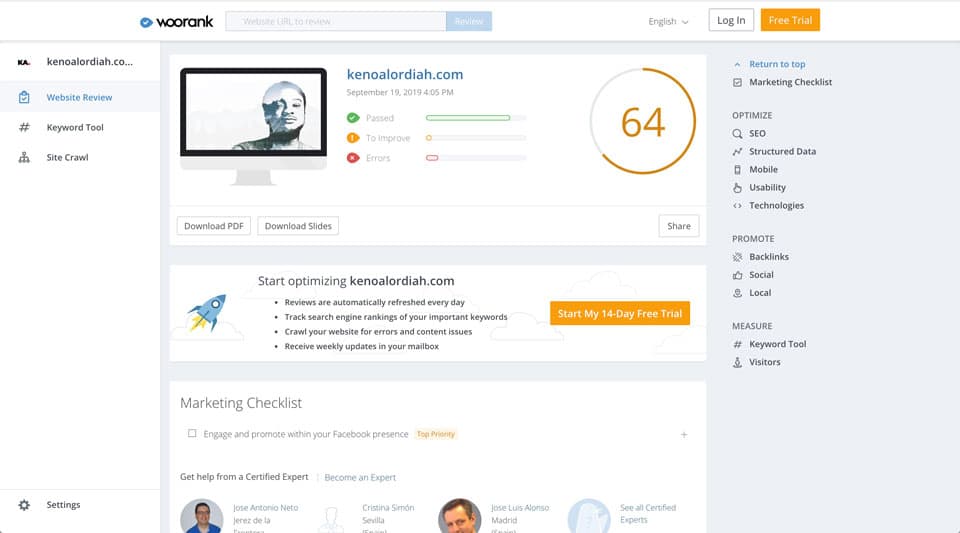 Google search console is a must-have tool for anybody serious about doing proper SEO. 
If you have not signed up and verified your domain with Google Search console, now is the time to do so.
This tool can help you
Locate crawl errors and how to fix them
Identify mobile usability issues
Analyse keywords that are driving traffic to your website so you can optimise content and keep ranking.
Since this is the tool provided by Google you can be 100% sure of the results provided.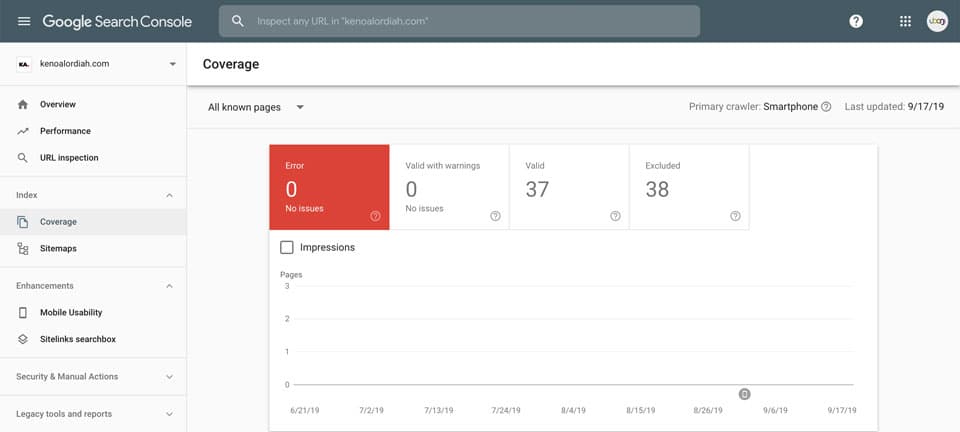 This SEO audit tool is among the easiest to understand for non-tech-savvy people. 
The results are straightforward and point you directly to where you need to make changes.
The best thing about this is SEO tool is that is free to use and you can run as many audits as you wish and dig deep down into your website pages to ensure that you are covered.
This tool gives you an overview of areas that need improvement.
There is also abundant resources on the website on how to implement the changes required to help your SEO.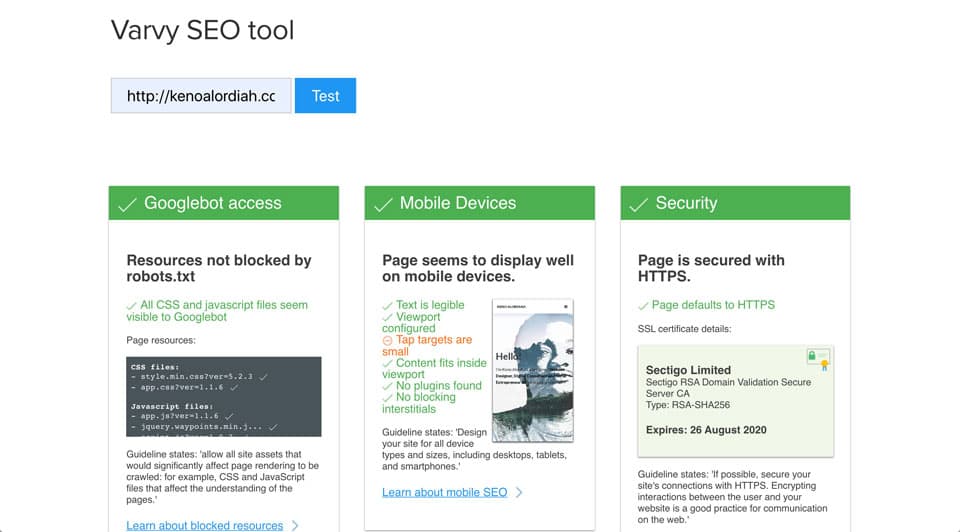 Lipperhey is another powerful SEO audit tool that analyses all the pages on your website and gives you an overall score.
The free SEO reports provided by this tool is more than enough to give you an overview of how your website performs in terms of SEO.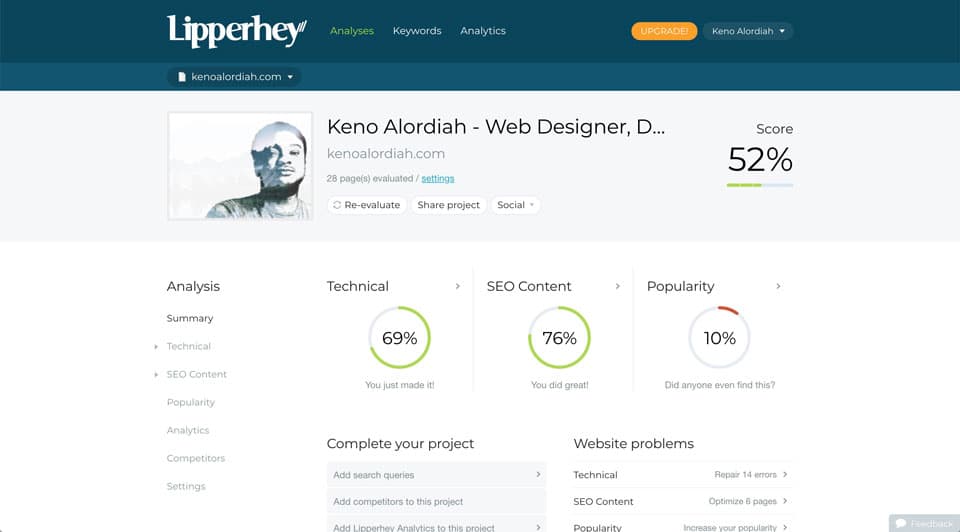 This is a free SEO audit tool provided by thehoth.com. 
As an experienced SEO company they really know their onions and this tool can guide you with a proper SEO audit of your website.
The tool provides you with an overall SEO audit score and a list of tasks that you can perform to improve the SEO for your website
The result is very easy to understand and can also be exported as a PDF document which can then be handed over to your web designer or web developer for implementation on your website.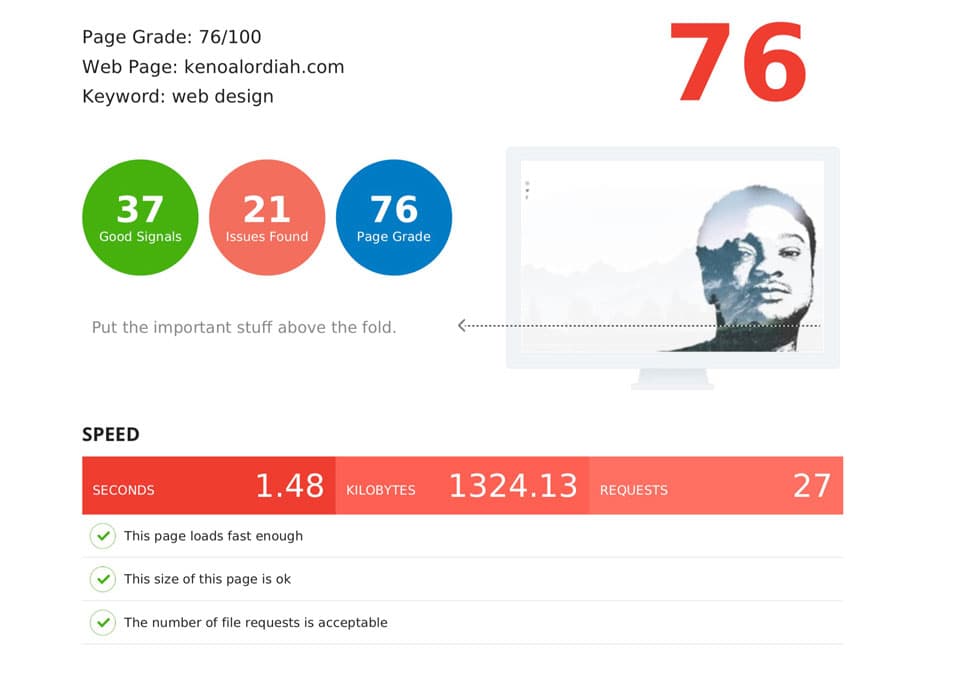 Just like Woorank, this is another comprehensive website performance and SEO audit tool.
For full access to a comprehensive report, you need to signup for a package but free SEO audit report works just as well. 
Your website is scored from A to F across different metrics like SEO, Mobile usability, Social proof, Security and technology.
Overall, they have a helpful recommendation section that outlines all the little tweaks you can make to improve your website's performance and SEO.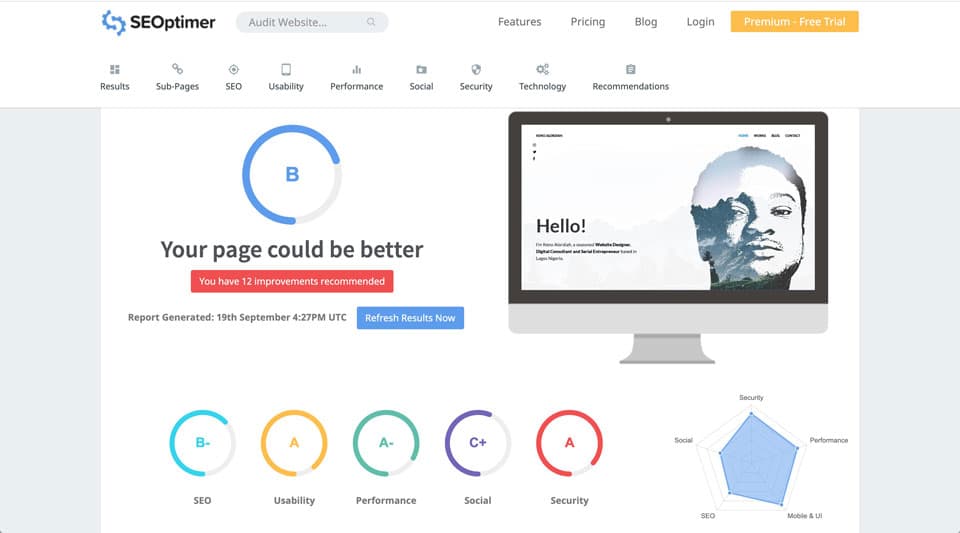 How to use the SEO audit tools report
A lot of the SEO tools mentioned in this article requires a premium membership.
And since we are not yet ready to go premium, I encourage you to use their free SEO report as a benchmark for your SEO improvements.
I strongly recommend using a SEOptimer and Woorank to carry out your free SEO audit.
Their SEO audits are quite comprehensive and provide enough information to cover everything you need to implement to achieve better SEO results. 
The reports provided by most SEO audit tools listed above can be exported and sent to your web developer for implementation.
Once you've implemented recommendations from at least 2 SEO audit report on your website, It's time to deploy a content strategy to further improve your SEO rankings in search results
I hope you found this article useful cuz I've really enjoyed putting it together.
I'll constantly be updating this article to add new website audit tools and techniques that you can use to improve your website performance and SEO.