Published October 14th, 2019
Web Design Inspiration: 16 Best Websites for Creative Web Design Ideas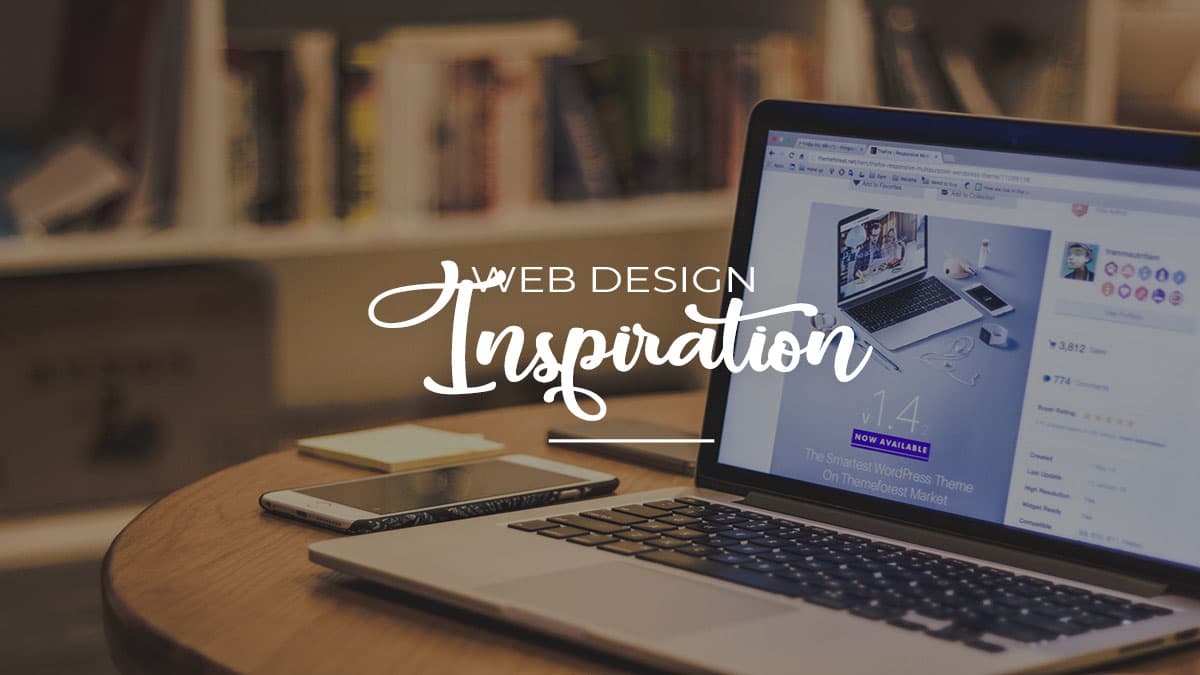 Web design inspiration sites curate some of the best website designs around the world.
This is a good starting point we are looking for fresh ideas for a new website or if you're trying to modify an existing website to make it look more modern.
From beautiful UI designs to breath-taking user interaction and awesome web typography designs, these selected web designs will expose you to current web design trends and technologies.
Not only will it fuel your curiosity, these web designs inspiration sites will help you improve your web design skills as you challenge yourself even more to achieve better UI/UX designs.
If you are struggling to get fresh ideas to wow your clients, you are not alone.
So stop scratching your head thinking about how best to execute your next web design project, this can be tasking even for a seasoned web designer like myself.
Look no further.
My best web design inspiration list
In this list, I will be sharing some of the web design inspiration websites I use daily to get fresh ideas and fuel my creativity for a new web design project.
Although I've put together a very short list, these are definitely not all the web design inspiration sites available.
These are just my go-to resource for reinvigorating my creativity and fueling new web design ideas.
Be rest assured I will be updating this list from time to time as I discover more web design inspiration websites to help both you and me get better.
I have prepared this list in no particular order so feel free to jump right in and get your creative juices flowing.
Awwwards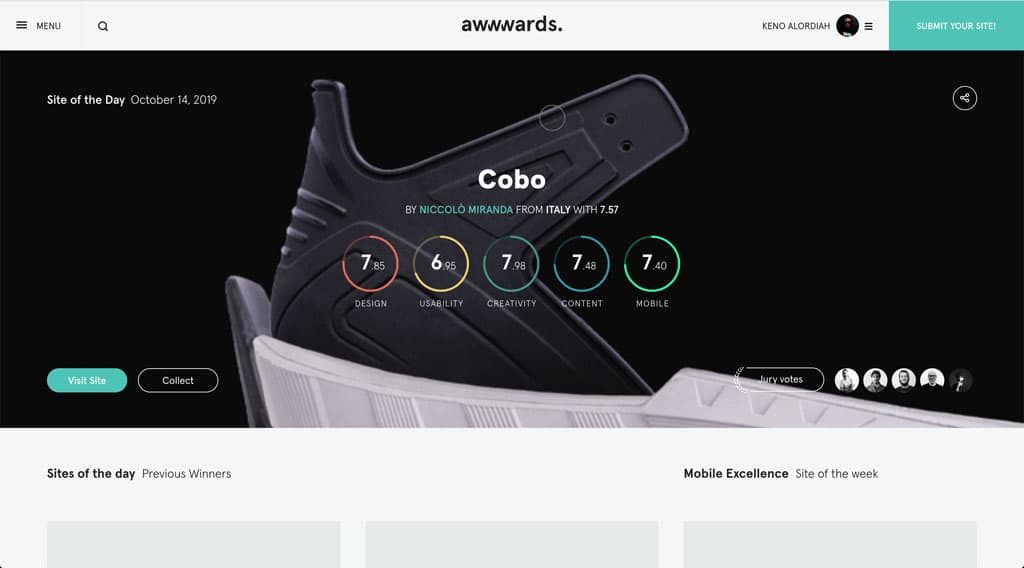 Awwards boast some of the best website design collection on the planet. They pride themselves as the award for design, creativity and innovation on the internet.
With a jury of the best designers, creative directors, bloggers and agencies from around the world voting on user-submitted web designs daily, you are sure to find only the best websites here.
Websites are not only scored on designed but on usability, creativity, content and mobile design.
They also have a collection of websites grouped into categories like navigation, transitions, image galleries and slideshows to help sieve through the clutter and focus on specific areas in web design you need inspiration.
TheFWA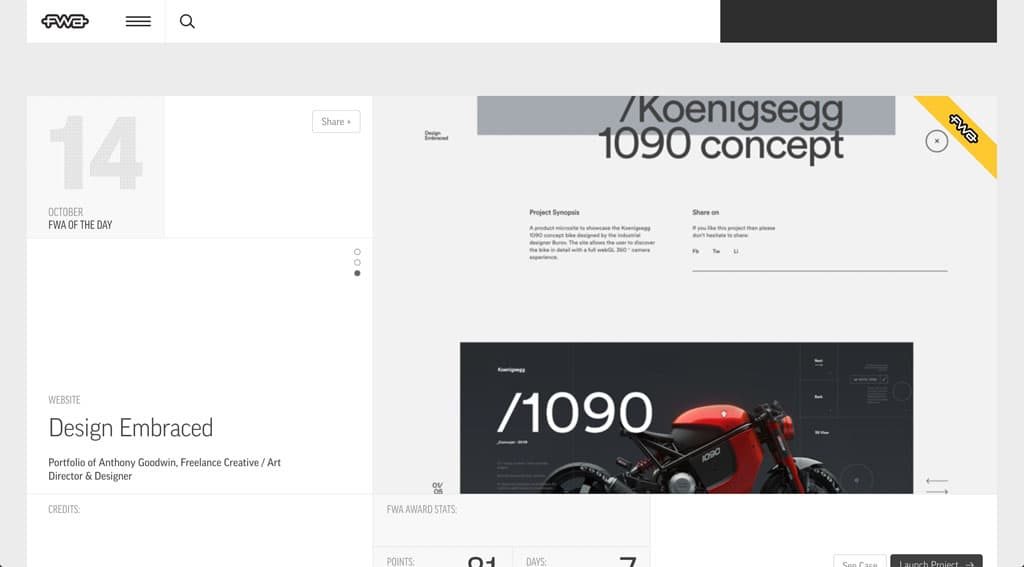 The future web awards or TheFWA as it is commonly known features some of the best website designs in the world.
They have been in the business of showcasing some of the best, innovative website designs since 2000.
With over 300 judges from 35 countries around the world, you are sure to get only the best designs for inspiration.
I fondly remember back when I started in my web design career back in 2006 and how I jump on every opportunity I have to visit theFWA and get inspired.
I know without a shred of doubt that TheFWA was truly instrumental in guiding my designs and helping me get better.
CSSNectar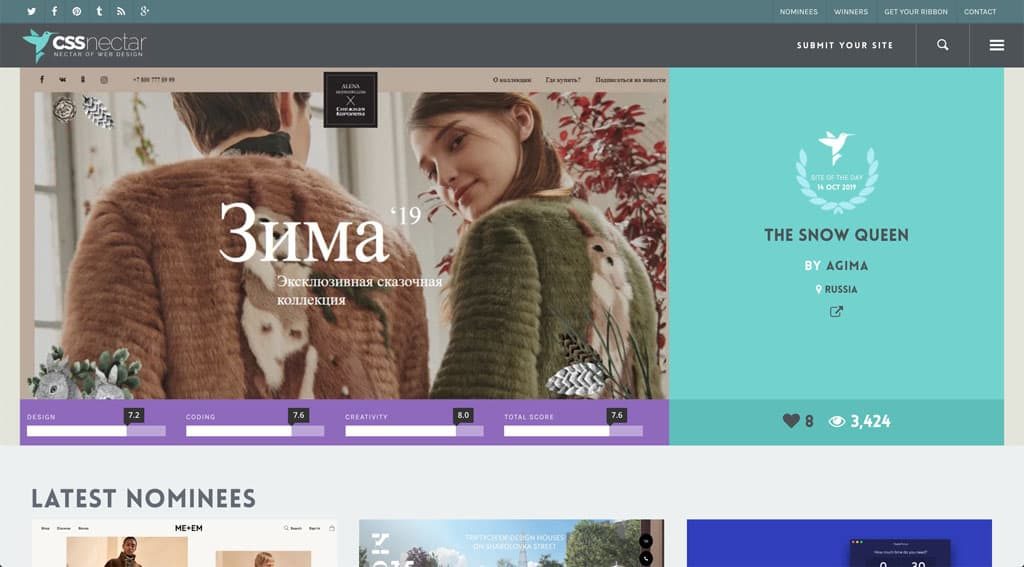 CSS Nectar is a collection of a beautiful website design across the world.
Every day, they scour the internet for beautiful and innovative web design which will be vetted and added to their gallery.
One thing I like about CSS Nectar is how easy it is to find web design inspiration based on categories, colour scheme, website features and country.
As a result, you can quickly find specific web design ideas based on your interest.
Although there is a $5 fee for submitting your website, I bet it is a small price to pay for having your website featured on CSS Nectar.
Besides, you have to be very confident with your design to submit it for vetting and finally have it featured on their website.
Dibbble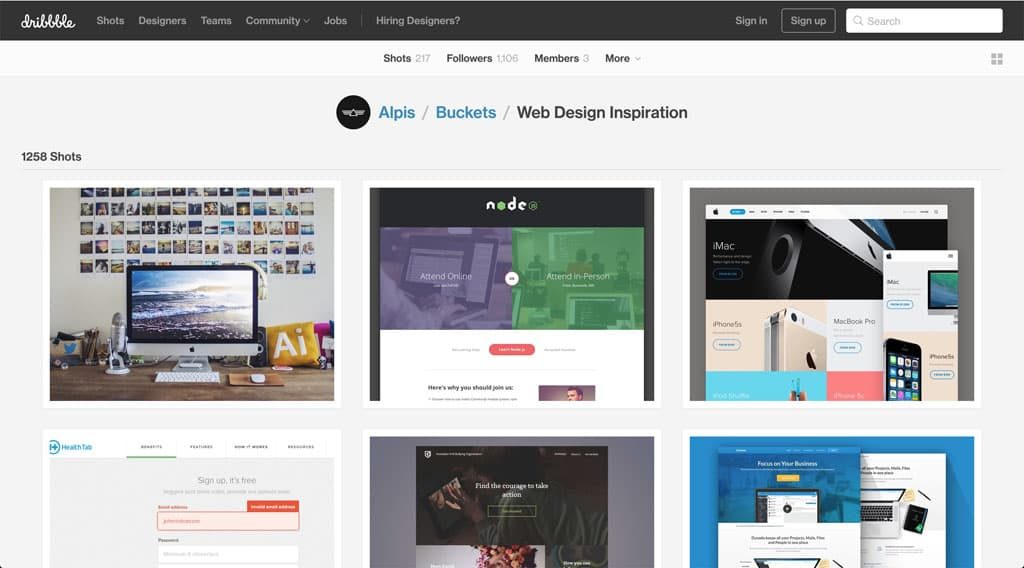 If you don't know Dribble as a designer, you may have been living under a rock.
Dribbble is the home for everything design. From animation to illustrations, product design, typography, web design…
Whew!! the list is exhaustive but you get the point.
As a community of designers showcasing their creative works, there is no shortage of ideas to fuel your creativity.
It doesn't only apply to a web designer.
You can get inspired by just scheming through the homepage alone but filter it down to web design and you'd find your heart racing with pure, unfiltered exhilarating excitement.
Behance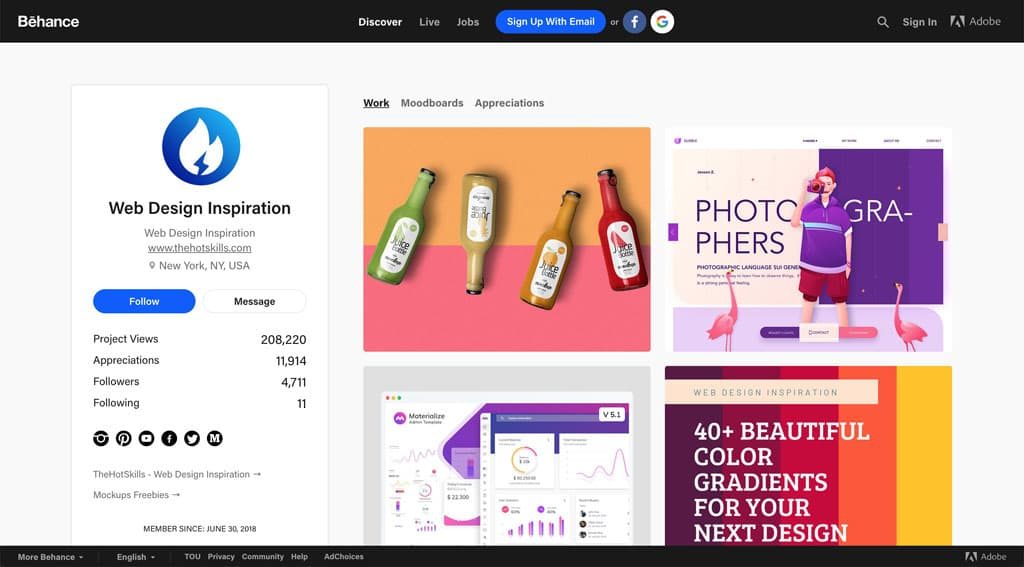 Just like Dribbble, Behance is a community of designers showcasing their creative works.
Behance is part of Adobe making it one of the most active creative communities on the planet.
Their website filter feature is particularly useful in helping you narrow down the results to areas that are of interest to you.
Let me give you an idea of what to expect when you browse Behance.
Just think about all the creative software designed by Adobe and picture a place where the best creative minds come to collaborate.
That is the scale of Behance.
Be sure to check it out for fresh new ideas for your next website design project.
Pinterest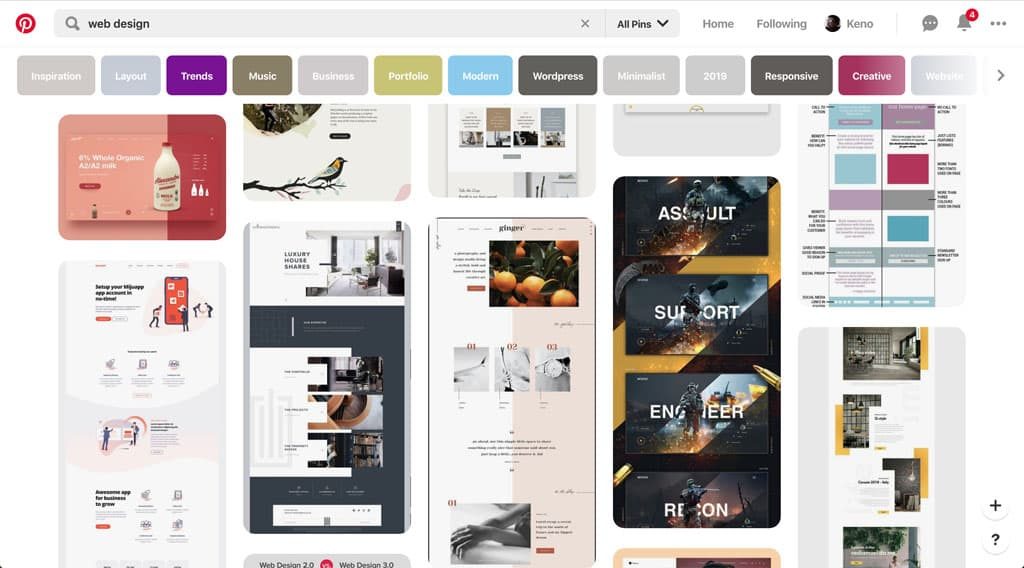 Like many other online social communities, Pinterest is great at many things but what you probably didn't know is how much web design inspiration resources get pinned on Pinterest daily.
Imagine a social community of people pinning interesting ideas curated online all for your discovery pleasure.
You can find beautiful web design ideas by simply using the search form on Pinterest and pin it to your board for future reference.
Although unlike the other web design inspiration sites on this list, Pinterest has the least features for filtering down into specific web design ideas you might be looking for.
But then again, it is a great resource to find new web design ideas to get your creativity flowing
It is also worth noting that you should also pin your web design ideas to Pinterest to help other designers get inspired.
Design Inspiration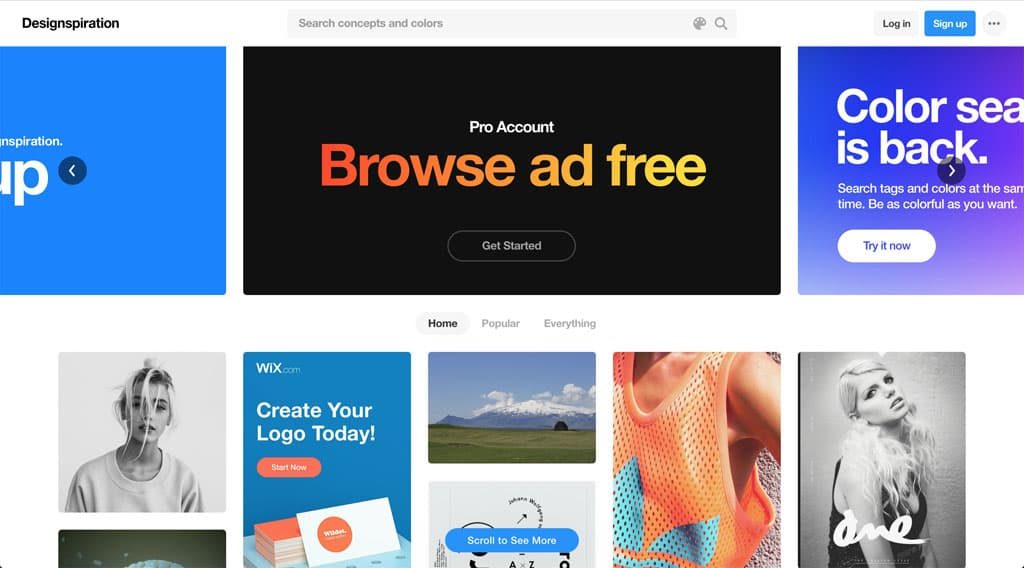 This website is quite similar to Pinterest but tightly focused on designers with a cool twist.
One cool feature of Design Inspiration is being able to find design ideas based on colour schemes.
This can be very handy when you need design ideas on how best to match colours in your design to create harmony which I find very helpful.
Just like Dribbble and Behance, it is also a community of creative people sharing designs that inspire one another.
You can set up a free account and save ideas for future reference.
CSS Design Awards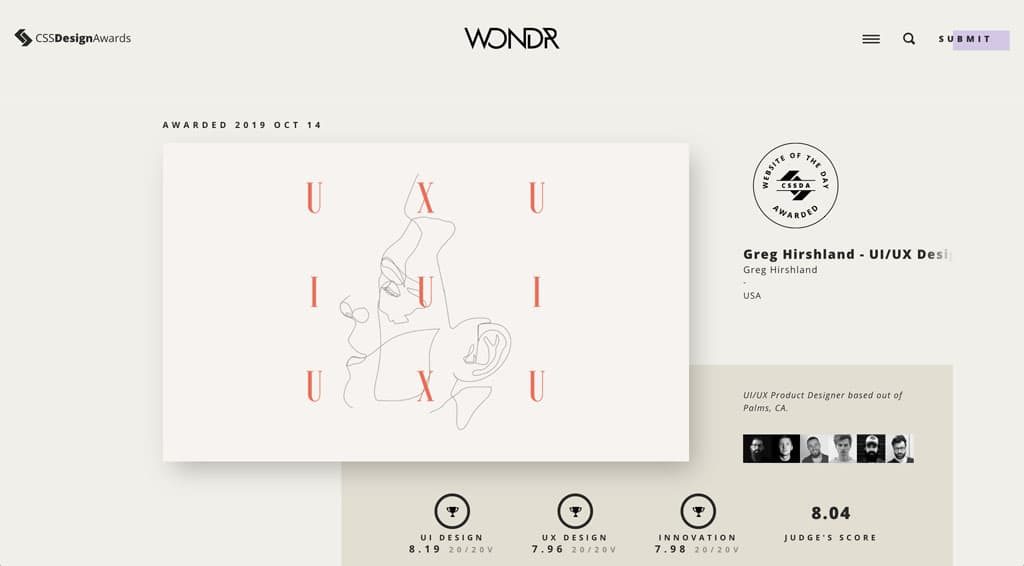 CSS Design Awards is a web design award platform for digital folks and UI/UX designers.
There are lots of beautifully designed websites submitted by freelance web designers and agencies on display.
More than enough to get your creative juice flowing.
Websites are grouped into categories for easy navigation based on features, industry and colour.
Best Website Gallery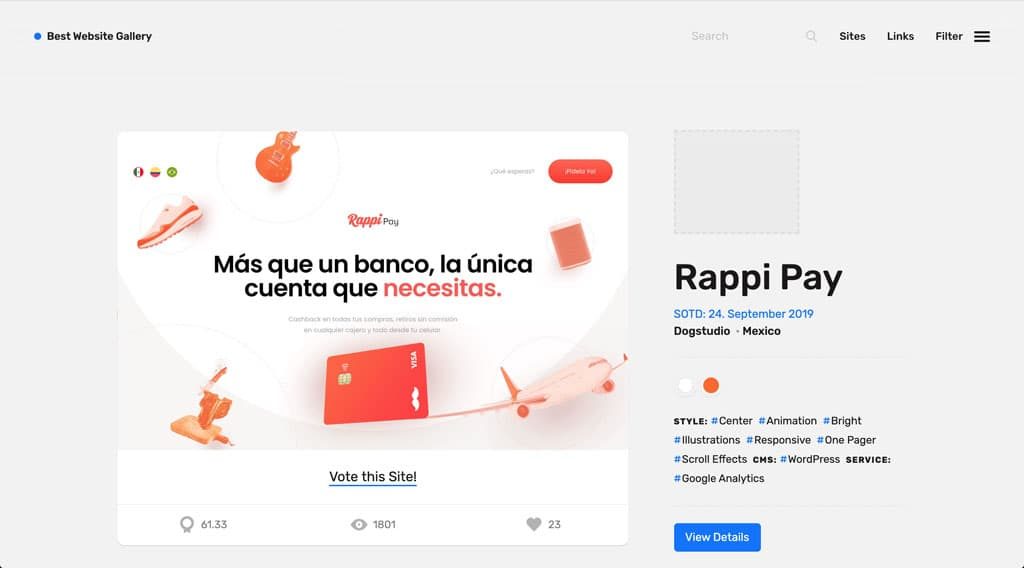 If you ever need one website for the ultimate web design inspiration, Best Website Gallery is where you should be.
This website is packed with tons of truly amazing web design handpicked just for you.
One thing I can't get enough of is how submitted web designs are grouped by style, CMS and frameworks.
And it gets better.
You can also find web design ideas using colour schemes, isn't that awesome.
The only downside I noticed while using the site is my inability to search for web design ideas based on industry.
This can be very useful while researching web design ideas for a specific industry.
While this doesn't seem like much of a problem, I will be happy if they had that filter as well, or maybe I didn't look hard enough.
You give it a try today and let me know what I missed.
Site Inspire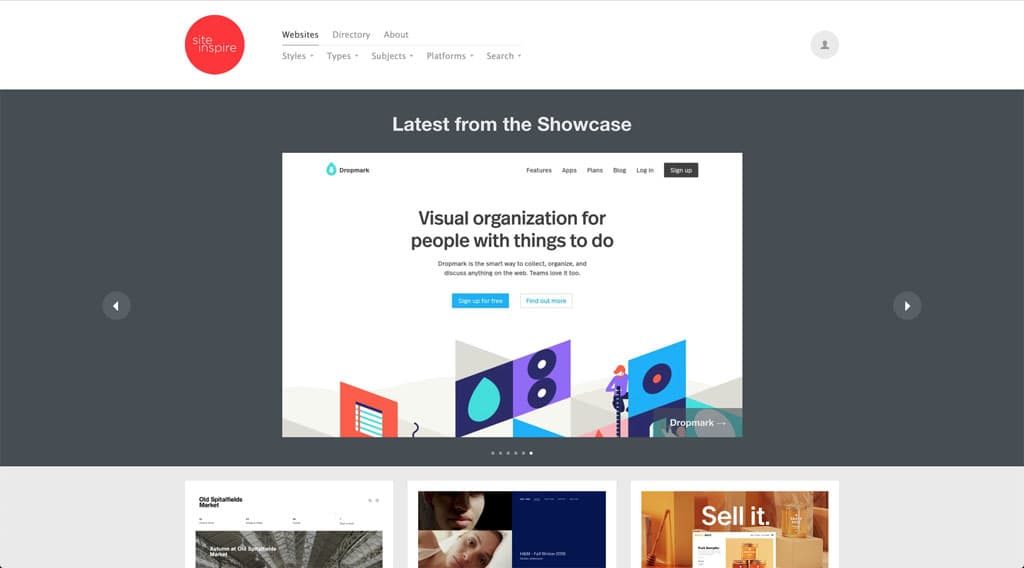 Let's call this the directory of all things web design inspiration.
Site Inspire is a great collection of the finest web and interactive designs all to fuel your creativity.
You can find different web design inspiration across various industries, styles, types, platform etc.
All thanks to their robust tagging system.
It is a handy feature that can save you time when surfing around for web design inspiration on Site Inspire.
CollectUI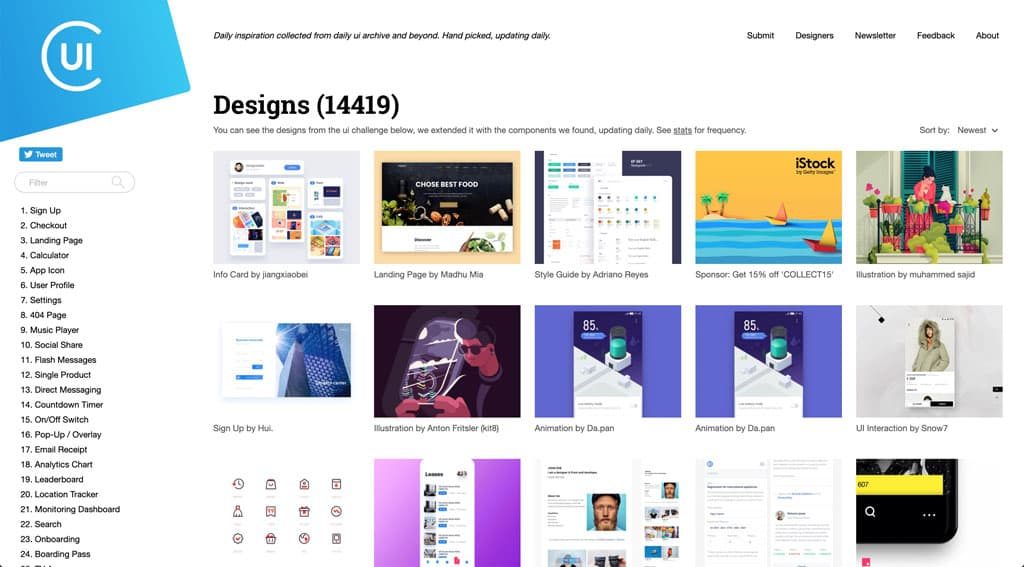 If you ever feel overwhelmed when you visit Dribbble or you find it difficult locating web design ideas then CollectUI is for you.
CollectUI is a daily web design inspiration ideas curated from Dribbble. It features some of the most popular Dribbble shots.
The great thing about CollectUI is you can filter shots down into individual website features and find design ideas quickly.
As a result, I find myself using CollectUI more often than I use Dribbble.
This is simply because of how easy it is for me to find web design ideas without mussing around.
Template Monster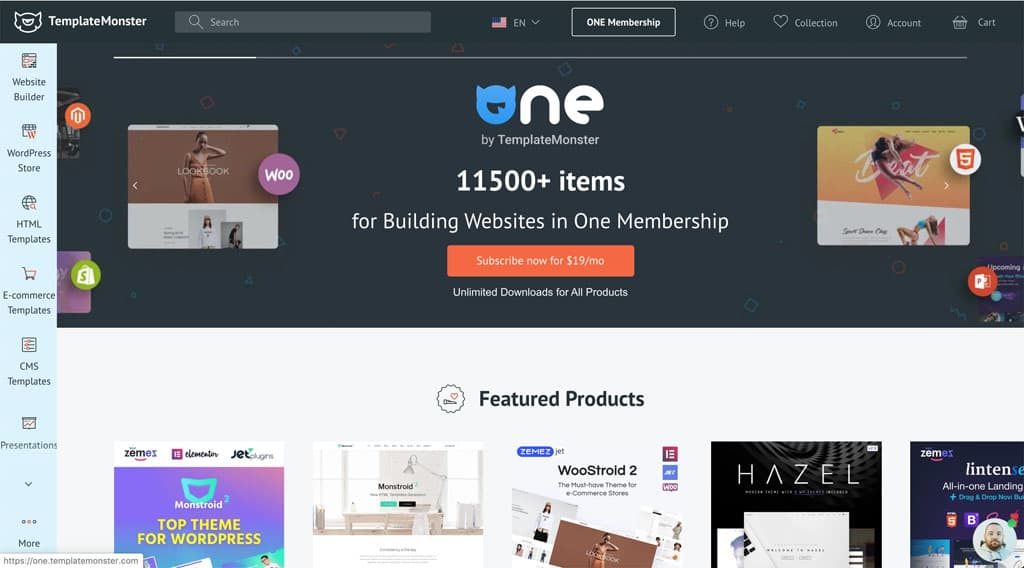 Who would have thought that a premium web design template site will make it on this list?
You'd be wrong to think otherwise.
Template Monster is an online website template shop with lots of modern designs you can buy and instantly use in your WordPress site or other CMS's.
So why is it on this list you might ask?
Well, since they feature some of the best web design templates to their customers for sale, it doesn't hurt to snoop around to find beautiful website design ideas for your projects.
You can view live demo's of website template to have a proper idea of how it all works out rather than looking at static images.
I don't advice you to copy their designs but rather get your mind racing with new website design ideas.
CSS Winner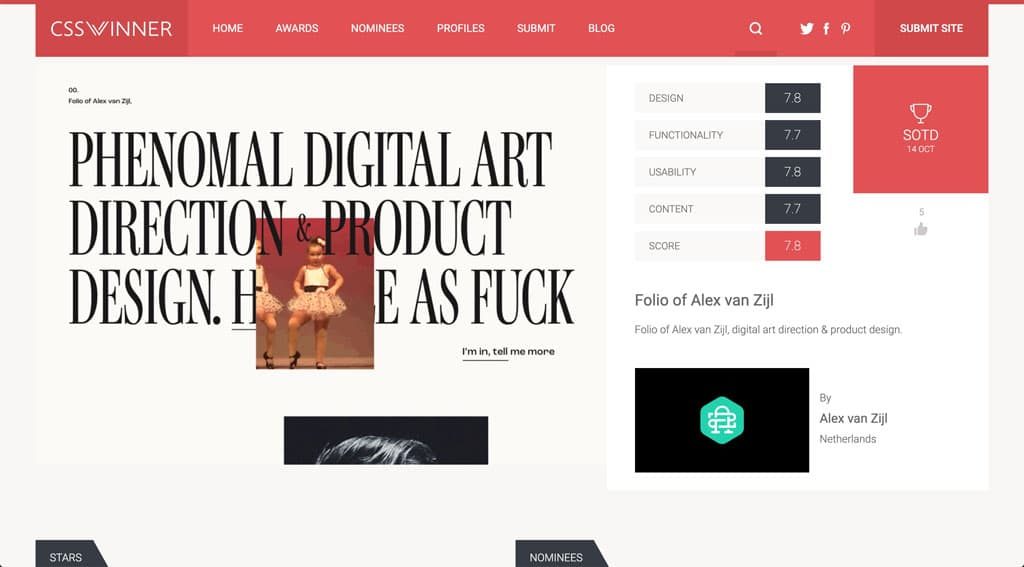 This is quite similar to some of the other websites mentioned in this list but with a slight difference.
While the likes of Awwwards, TheFWA and a few others feature only the very best, CSS Winner has an entry-level submission and vetting process for new web designers which is encouraging for newbies.
This means that if you are new to web design and want to improve your skills without feeling too intimidated, then CSS Winner is for you.
You can browse through the nominee section for web design ideas and submit yours as well.
I'm by NO means saying the websites featured on CSS Winners is not at par with the rest mentioned on this list, I only mean it is more welcoming for newbies who don't want to be intimidated.
The Best Designs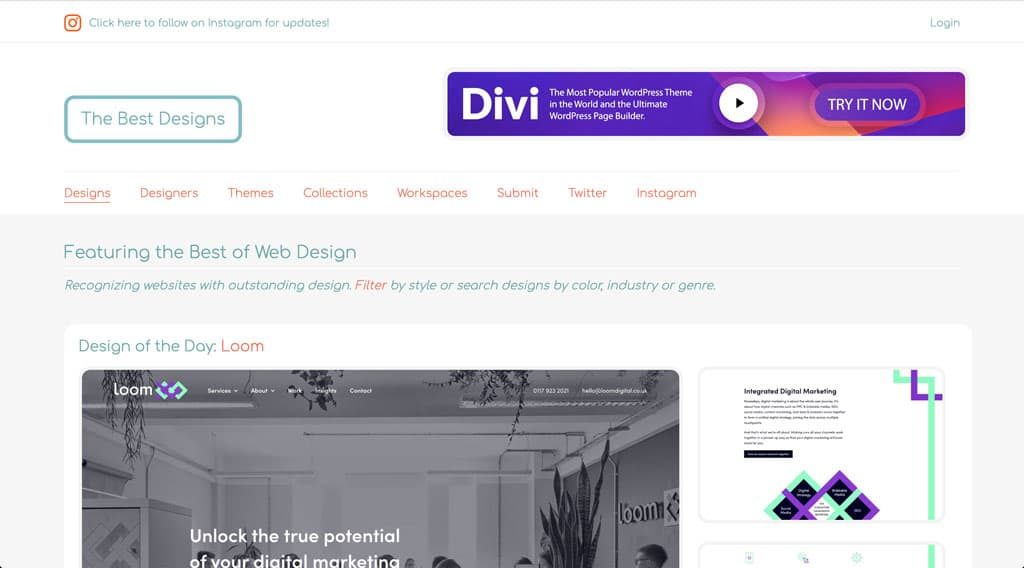 You can find beautiful web design ideas for your next project on The Best Designs.
The site uses big, bold screenshots of the featured website giving you a glimpse of the layout.
Another useful feature of The Best Designs is its collections.
Collections help you find related website ideas quickly.
There are lots of web design ideas to choose from especially within its carefully selected collections.
Be sure to check The Best Designs daily for your daily dose of beautiful web design inspiration.
Reenoo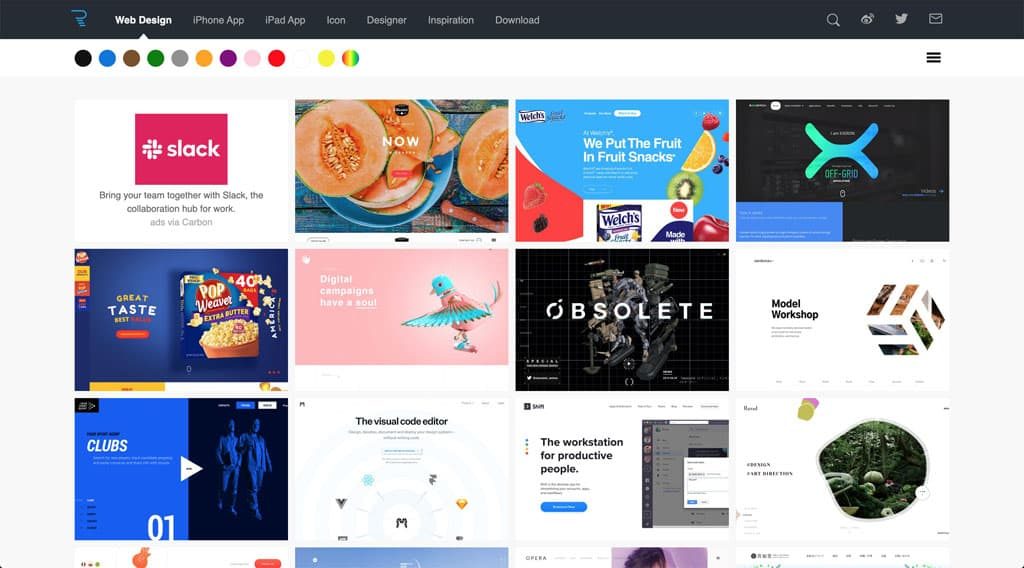 This site features a robust set of design ideas to whet your appetite.
From web design ideas to iPhone app UI design, icons and more, you are definitely gonna be inspired for your next project.
Reenoo has a nice tagging system to help you find design ideas quickly and easily.
You can also pin interesting designs to your pinboard on Pinterest for future reference.
Responsive Design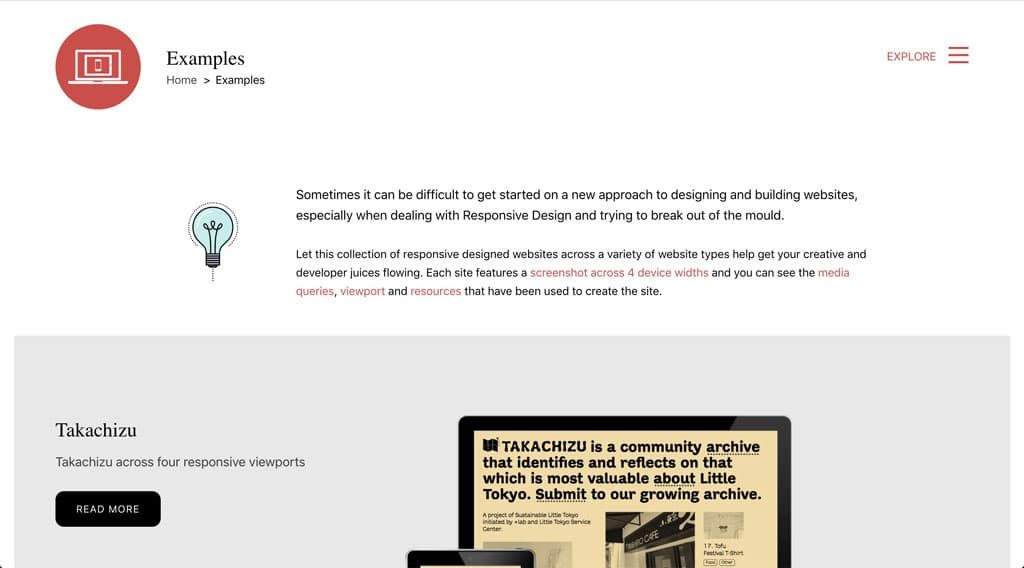 We all live in a world where more people access the internet on their smartphone daily.
And as web designers, we have to design a responsive website that not only looks pretty on large screen devices but also on mobile devices.
This is what Responsive Design tries to solve with a daily dose of responsive web design ideas you can use.
The site comprises screenshots of website design layout on desktop, laptop, tablet and mobile devices.
You can get a better idea on how to structure your layouts for better user experience across various devices.
Conclusion
I'm sure I've only scratched the surface of the vast amount of web design inspiration websites out there.
But this list should get you up and running in no time.
While I plan on updating this list in the near future, I encourage you to use some of the websites listed here to fuel your creativity.
Web design trends are constantly changing so keep an eye out for fresh new web design inspiration.