Last Updated June 15th, 2019
How To Easily Get The Perfect Domain Name For Your Start Up Business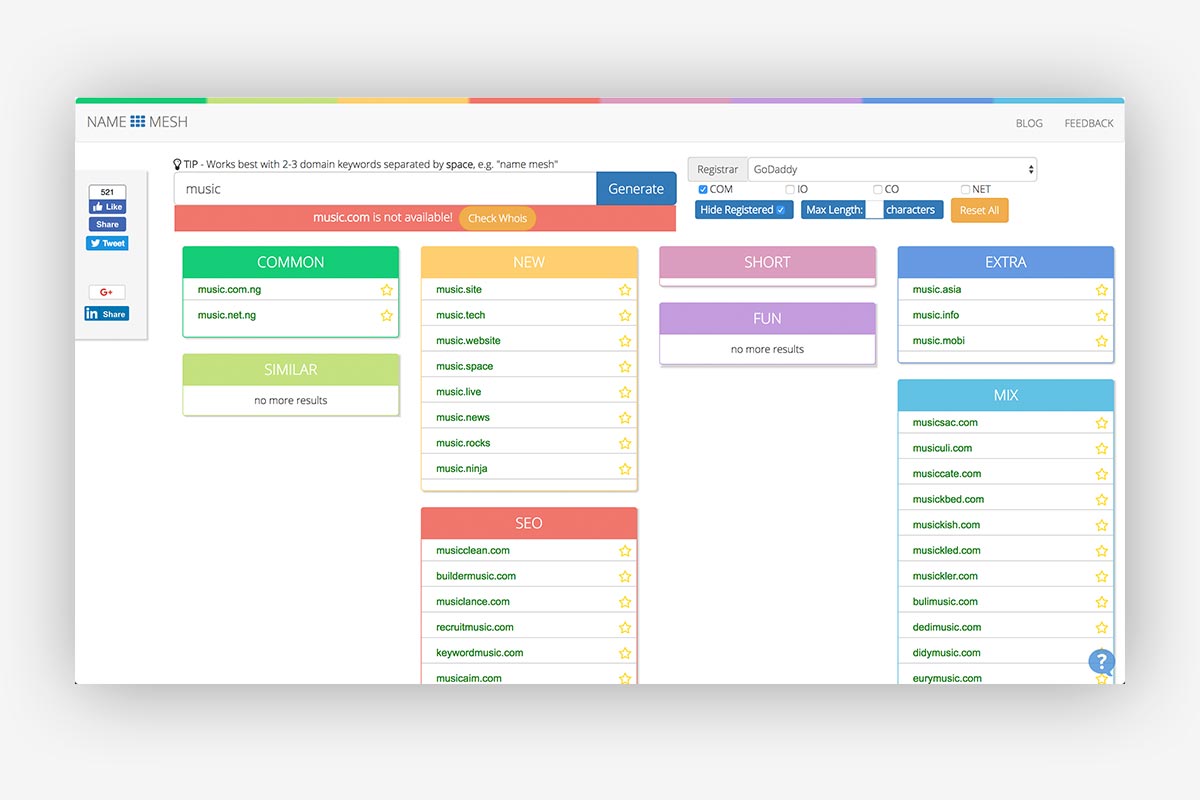 Registering the perfect domain name for your startup business can be a bit of a hassle especially when you choose to use an English word. A lot of domain names comprising of English words have been registered, some of which are not being used by their owners and are available for sale upon request.
These domain names are usually far more expensive, sometimes, running into several thousands of dollars. If your pockets are deep and you want a domain name that is already registered, read this guide to know how to get started.
However, if you're a cheapskate like me and you're looking for a fresh domain name that is not registered by anyone, I'd show you just one tool you can use to make your life a whole lot easier.
Namemesh.com is a tool I always use to research the perfect domain name for any business or startup I'm interested in. The great thing about this online domain generation tool is that, first of all, its FREE! Who doesn't like free stuff? Second of all, it categorises domain names into eight different groups making it easy to narrow down quickly on the type of domain name you want.
These categories are;
Common Domain Names
New Domain Names
Short Domain Names (like del.icio.us, foc.us, citi.es)
 Extra Domain Names (like .co, .io, .it, .mobi, .name, .me, .ly)
Similar Domain Names
SEO Domain Names i.e. Domain names perfect for SEO purposes
Fun Domain Names
Mix Domain Names
Finally, namemesh.com filters the generated domain names and only shows you domain names that are available for registration which can prove to be a huge time saver.
There are certainly other online domain name generator tools you can use to make your domain search a lot easier but I find namemesh easier to use and grasp. A quick Google search can reveal several other tools you can use but in this article, I'm only going to focus on namemesh.
Let's get started!
The first step to get started is to make a note of the ideal domain names that you feel best suits your needs. Then do a quick search on GoDaddy.com to see if it is available. If it is, you are in luck, otherwise, head over to namemesh.com and start searching for the perfect domain name.
In this example, let's assume I'm searching for a domain name for a new music web application I want to launch and I want the domain name to contain the word "music" for some odd reasons.
A quick search on namemesh.com yielded the following results.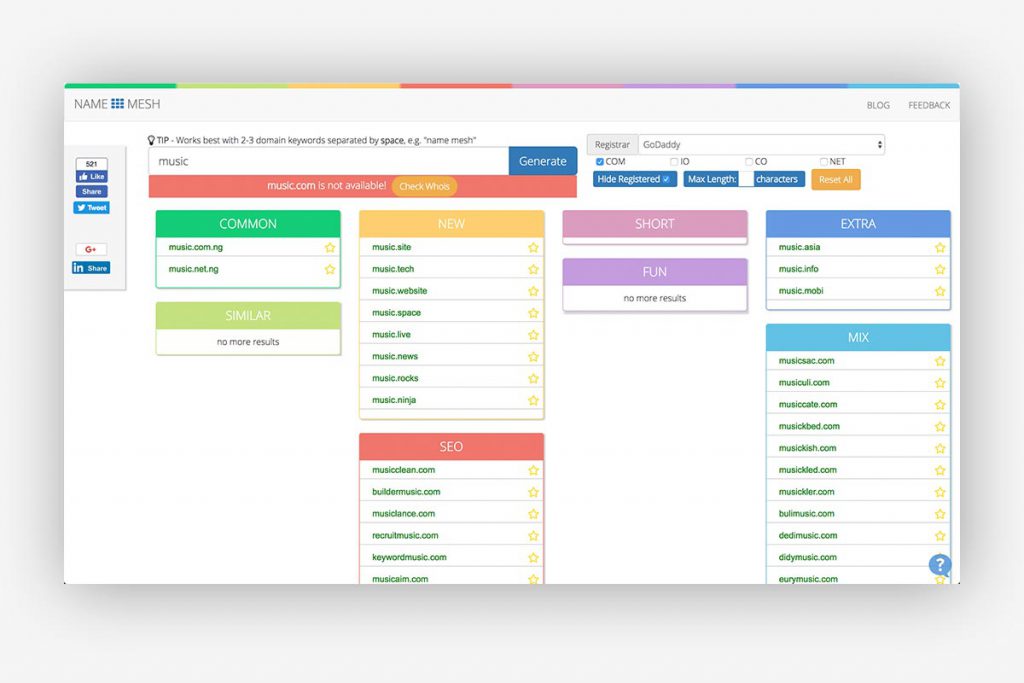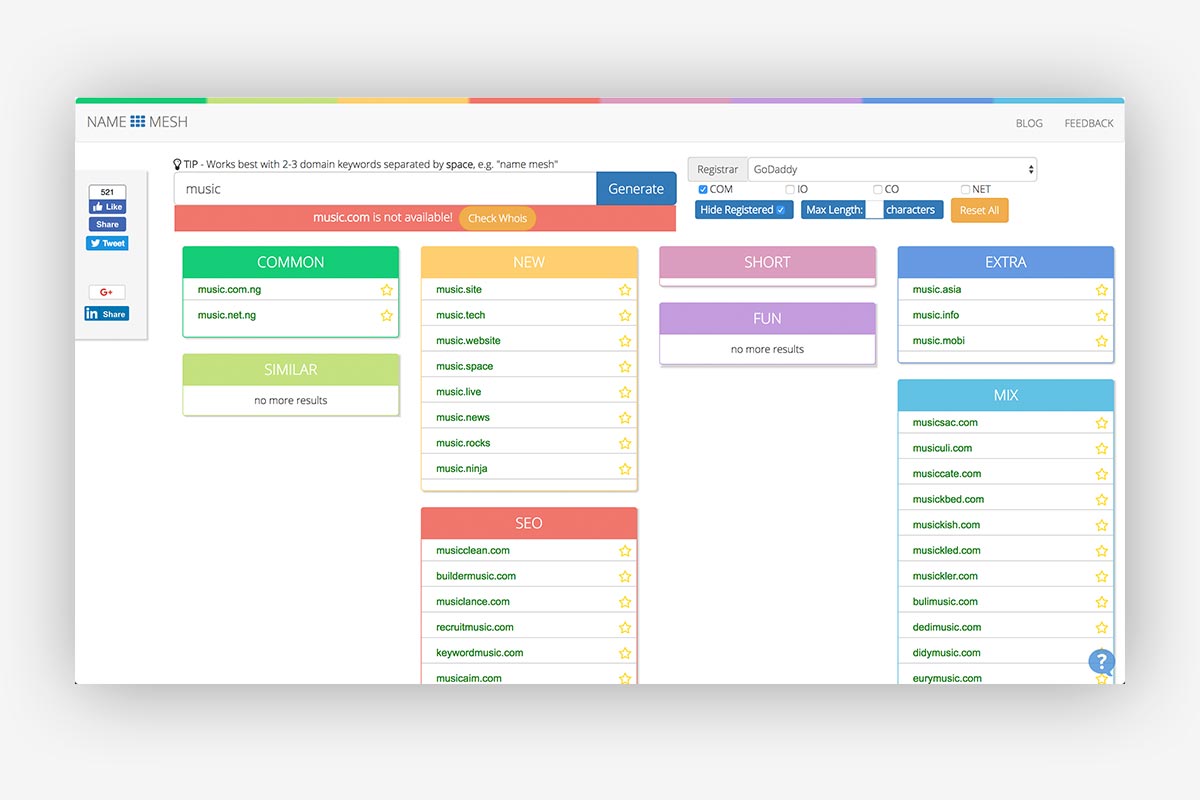 From the results above, it becomes a lot easier for me to scan through and decide which is best for my new music app.
As I stated above, there are lots of tools that can help you achieve similar results but I just find namemesh easy to comprehend. If you know of other domain name generation tools I should look at, don't hesitate to notify me.